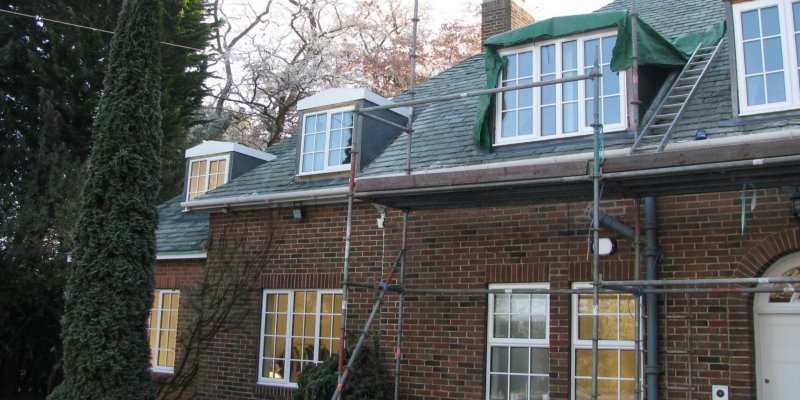 At M. Stubbs Building Services we have the skills, knowledge and experience to offer both pro-active and re-active interior and exterior property maintenance to domestic, commercial and industrial property owners and landlords.
Private Householders and Landlords:
Finding the time to keep your property in great shape can be a challenge in today's busy world. Preventative maintenance in areas such as internal plumbing, external drainage, gutters, roofs etc. is essential in order to avoid costly problems in the future.
We have the in-house expertise to deliver your building maintenance at extremely competitive prices. When issues do occur you need reliable, skilled tradesmen to affect quality, long-term repairs, ensuring the property is habitable and enhances its market or rentable value.
By choosing us you can avoid the time and stress of having to co-ordinate and liaise with various different contractors. We will project manage and carry out all work and – if we do need to sub-contract aspects of the job – we'll bring in trustworthy teams who are as committed to a tailored, first class finish as we are.
Commercial and Industrial Properties:

(including Local Councils and Housing Associations)
We can provide cost effective, fit-for-purpose ongoing Maintenance Contracts to give you peace of mind and enable your business to perform at its maximum potential.
Alternatively you may call on our professional expertise for one-off problems, repairs and insurance jobs. Whether it's a one-person task or a team of specialists that is needed, we'll be able to provide accurate timescales, costs and all the labour and skills required – managing the project from start to finish. Should your requirements change, we can adapt to meet them.
Our Skilled Workforce:
In all cases of residential, commercial or industrial building maintenance, our reliable and innovative workforce can cover all aspects of:
Plumbing
Water-proofing and water damage repairs
Joinery
Plastering
Tiling – floors, walls; bathrooms, kitchens, corridors etc.
Roofing & lead work; Chimneys
Guttering
Preventing and resolving dry rot issues
Brickwork
Under-pinning
We'll ensure any special requests are met and we'll procure all materials needed at optimum prices to fit your budget. Obviously we'll liaise with and arrange any other skilled workforce that may be needed in addition; we'll supervise them and communicate with you, always keeping you up to date with the status of work, time-scales and costs.
Please don't hesitate to contact us if you are in need of general property maintenance on a one-off or contract basis.
Should you also have need of additional renovation or internal alteration work, we'd be very happy to help.